Paessler's recently-launched PRTG Version 8 Features New Clustering Function for Fail-Safe Network Monitoring
Managing Increasing Demands on IT Infrastructure by Eliminating Data Gaps, Providing Non-Stop Monitoring
Los Angeles, CA and Nuremberg, Germany (October 20, 2010) - Companies depend on a fully operational IT infrastructure to ensure smooth workflow, yet the overall growth in the IT market makes it increasingly difficult for IT administrators to keep track of their complex networks and to react promptly to errors. According to forecasts by market research firm IDC, the growth of the overall IT market will accelerate steadily until 2014. As such, the complexity of corporate networks will also increase. To meet these growing demands, Paessler has included a new cluster feature in PRTG Network Monitor 8 offering non-stop, fail-safe monitoring and eliminating data gaps when the system crashes or the server is shut down.
"Version 8's new clustering feature is in direct response to the exceeding demand on IT administrators to keep a constant eye on their networks and to ensure that monitoring data is available 100% of the time," said Dirk Paessler, founder and CEO of Paessler. "In addition to fail-safe monitoring, the PRTG cluster also features central reporting capabilities, central notifications and alerting, secure connections between nodes, and monitoring data from each node's individual perspective. This is a key feature that sets PRTG apart from other network monitoring solutions."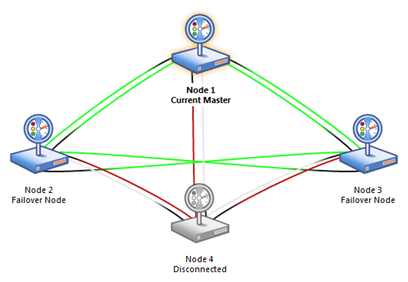 Availability Around-the-clock
Network administrators are faced with the task of ensuring constant network availability, and to do so, must have constant access to network data. By using the PRTG cluster, the monitoring system is not affected by disrupted connections such as an Internet connection failure or faulty hardware and software upgrades. A PRTG cluster consists of a "Master Node" and one or more failover nodes. Each of these nodes is a full installation of PRTG Network Monitor and monitors the complete network independently. All cluster nodes (up to five) continuously monitor the network-optionally from different perspectives and, if desired, in a globally distributed network. Each node has its own database which ensures a continuous backup of PRTG's configuration and monitoring data.

Parallel Network Monitoring
To add or configure devices and sensors, the IT administrator connects to the "Master Node" via PRTG Web interface or Windows GUI. This configuration is automatically distributed to all other nodes. Based on the user's settings, each installation parallel monitors the entire network i.e. the failover node monitors the same network in parallel to the "Master Node," providing the same data from another perspective. Each node saves information in its own database, the advantage being that, even at a complete loss of data on one node, monitoring results are still available from the other nodes. If the "Master Node" crashes, one of the failover nodes automatically takes over the master role and ensures that notifications and reports are available without interruption.
Stay Up-to-Date
In the event that one or more nodes detect a failure or notice that a threshold is exceeded, the administrator receives a central notification by the "Master Node" via email, SMS etc. In addition, PRTG provides in the cluster a new sensor status called "Down (partial)" which indicates a failure that is reported only by some of the nodes in the cluster. This allows the administrator to easily determine whether a service or device actually has an error, or whether only a specific connection is concerned.
About Paessler AG
Paessler AG leads the industry in providing the most powerful, affordable and easy-to-use network monitoring and testing solutions. The company's suite of just-right software products deliver peace of mind, confidence and convenience for businesses of all sizes – from Small Office/Home Office (SOHO) to large enterprises, including more than 70% of the Fortune 100 companies. Based in Nuremberg, Germany, Paessler's global reach includes more than 150,000 active installations of its products. Founded in 1997, Paessler AG remains a privately held company and is recognized as both a member of the Cisco Developer Network and a VMware Technology Alliance Partner. For more information, visit www.paessler.com.